Julie Online
Photos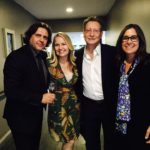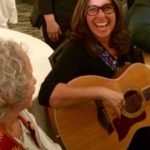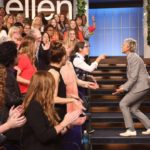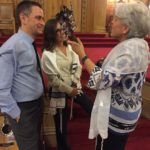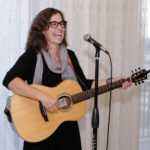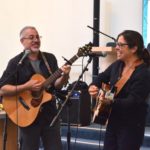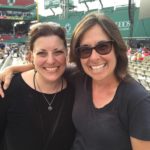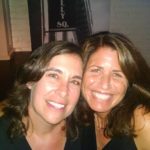 About
Julie Silver is one of the most celebrated and beloved performers in the world of contemporary Jewish music today. She tours throughout the world, and has been engaging audiences with her gorgeous compositions and liturgical settings, her lyrical guitar playing, her dynamic stage presence, and her megawatt smile for over 25 years.
Although she resides in Southern California, Julie's roots are deep in New England. She was raised in Newton, Massachusetts and by the time she was 18, she was leading raucous song sessions throughout the Reform Jewish movement and playing coffeehouses in and around Boston. Eventually, she would become one of the most sought-after song leaders in the country. She graduated from Clark University in Worcester, Massachusetts and was selected by her senior class to deliver the commencement address and sing an original song at Graduation in May, 1988. It was her first audience of thousands—the first of many.
After college, Silver landed a job as an on-air personality at WMJX, Magic 106.7 in Boston, the number one adult contemporary radio station in the city. She started as an overnight DJ, and quickly became the weekend host of "Bedtime Magic", a show that consistently hovered at the top of the Boston radio market. It was a natural fit for Silver who has impeccable comic timing as well as a silky-smooth speaking voice.
However it was her singing voice, her overwhelming desire to play her own music that would eventually take center stage. Julie moved to Santa Monica in June of 1994 to continue writing and recording. By the time she released her first album, Julie was stepping confidently into the national spotlight—a place where she shines most brightly to this day.
Without backing from a major label, Julie has sold more than 120,000 copies of her CDs. Between 1992 and 2020 she released some of the highest selling, successful albums of original Jewish music (Together, From Strength to Strength, Walk With Me, and Beyond Tomorrow). Her songs have become so tightly woven into the fabric of American Judaism that they have become "standards" in worship, camp, and academic settings.
In 2002 Julie released Notes from Montana, a collection of original folk/rock songs that featured a duet with the Academy Award winning actress Helen Hunt. Julie's children's CD, For Love to Grow, was released in spring 2005 and quickly honored as a Parents' Choice Blue Ribbon Recommended work. The honor is especially sweet for Julie, who recorded this beautiful CD as a tribute to her childhood music teacher, the prolific Boston-based composer, Aline Shader. It's Chanukah Time, was recorded in 2007, and was the first Jewish holiday CD produced exclusively for the Barnes and Noble bookstore chain. It was also the ONLY Jewish album to ever be recognized on any of the Billboard charts, peaking at #5 in 2009.
Julie released Reunion in 2009, a mix of new liturgical settings and narrative story-songs with smart, sophisticated lyrics in English ("Monica's Chair," "The Barefoot Sisters"). As a bonus, Julie includes a cover of Carole King's classic "Been To Canaan."
In 2014, Julie released Anniversary, a retrospective collection celebrating her 25 years of composing, recording and performing Contemporary Jewish Music throughout the world.
Silver is focused on painting (see link), zoom concerts, being a mother, mentoring up-and-coming singer-songwriters, participating in Social Justice projects and making the Jewish experience more meaningful. "I try to enhance the way people experience Judaism by adding my own take on our sacred texts" Silver says. "I also want people who have historically been marginalized to feel included in the Jewish community or in any community and to be encouraged to tell their stories and live their lives openly. Our tradition compels us to express ourselves…our joys, our hopes, our faith and our fears. The only path to healing is through sharing our stories with one another. As a songwriter, I write and sing my story and hope it resonates with people"
Julie whole-heartedly supports and is quite often the featured performer for many worldwide Jewish organizations including the Association for Reform Zionists of America (ARZA), The World Union of Progressive Judaism (WUPJ), The Union for Reform Judaism (URJ), National Council of Jewish Women (NCJW), Hadassah, The Women of Reform Judaism (WRJ), The Religious Action Council (RAC) and Women of the Wall in Israel. She also performs for American Jewish World Service and has performed and has served on faculty for The Wexner New Member Institute in Aspen, Colorado. In April of 2015, Julie helped lead a March of the Living trip through Poland and Israel.
In 2016 was given a lifetime achievement award by ARZA, in honor of her work in supporting pluralism, peace, and progressive actions in Israel.
During the summer of 2011, Julie sang the National Anthem before 38,000 fans at her beloved home town Fenway Park in Boston, a dream come true for a life-long Red Sox fan.Also a published author, Julie's essay, "From Exile to Redemption" is included in the anthology, "Dancing at the Shame Prom" (Seal Press, September 2012). Julie made her acting debut in the feature film, Then She Found Me, in a scene opposite Bette Midler.
Silver lives in Southern California with her partner Mary Connelly, a highly acclaimed Executive Producer and their daughters, Sarah and Katie.